Natural gingival tissue is not uniform in colour so why should your dentures be?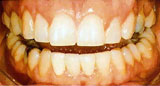 Natural gingival tissue.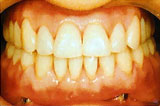 Natural Appearance of Enigma dentures in mouth.
Beautiful teeth are only shown off to their best advantage when framed by an equally beautiful acrylic base which replicates the appearance of the natural gums.
Natural gingival tissue is, however, not uniform in colour. For instance the thicker epithelium on bound gingivae or the bone showing through thin mucosa is ivory pink in colour. Areas of greater vascularity, where the epithelium is thinner and papillae are all darker pink and the gingival tissue of many ethnic groups have a bluish or brownish tinge. To reproduce this colouration Enigma Colour Tone has been produced for application in the denture flask. Enigma Colour Tone is particularly recommended for use with Enigma Hi-Base, an impact resistant denture base.


Enigma Colour Tones are pigmented acrylic powders, available in 8 shades, which are processed within the denture, providing a realistic 3-dimensional appearance.
Enigma Hi-Base is a high impact acrylic with superior flexural strength (over 75,000 Mpa) as well as superior impact: strength (over 11,000 kJ/m2), available in 3 shades.
Three Colour on Enigma Hi-Base Pink Veined

Three Colour on Enigma Hi-Base Translucent Veined

Four Colour on Enigma Hi-Base Pink Veined

Four Colour on Enigma Hi-Base Translucent Veined

Brownish Pigmentation on Enigma Hi-Base
Pink Veined

Dark Brownish Pigmentation

The importance of cosmetics to the denture wearer often goes unrecognized. Many feel they do not have a choice in whether their restoration can have a natural appearance. Prosthodontic privacy, when only you and your patient know they're wearing dentures, lie at the heart of the Enigma philosophy.
At its centre are a line of cosmetic teeth; developed after more than 5 years of research and development and the use of advanced computer technology to achieve precise control of multiple colour-component layers and completely uniform polymerization.
Subtle mamelon effect
Translucent incisal edges
Greater opalescence of laterals
Demineralization points
Darker necks
Longer necks
Increased hardness & durability

a system of double cross linking using specially developed polymers and cross linking agents giving a network of interpenetrating polymer chains.
precise computer dosing control of the layers required for each individual tooth in each mold.