Enta® Optiform
Enta worked out the leading processing and arrangement concept named "Lingualized Occlusion Concept" or invented the utilization of only one tooth line for all.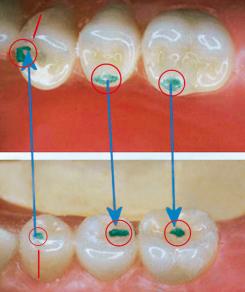 The "Lingualized Occlusion Concept" as developed by Enta in collaboration with leading scientists and universities describes a specific contouring and arrangement of the artificial elements. It combines the advantages of the so far highly mutual controversial concepts (anatomic and monoplane concept).
The "Lingualized Occlusion Concept" achieves optimal results with regard to aesthetics, wearing comfort, chewing characteristics as well as stability, bio- compatibility, easy arrangement and high ease of processing.
Contact points between upper and lower elements in the "Lingualized Occlusion Concept" concept: To achieve this, the central fossae of the lower elements are widened through selective grinding; during arrangement, the upper elements are edged somewhat towards the oral cavity.
Download concept comparison chart in PDF (1,453 KB)
Mold Charts
Porcelain: Download Enta® Ceram Optiform mold chart in PDF (146 KB)
Acrylic: Download Enta® Cryl Optiform mold chart in PDF (164 KB)