VERIDENT PLUS... A Promise Kept
Since 1917, Universal Dental has produced artificial teeth for top quality denture esthetics and functioning. When dental-care professionals like you have sought superior anatomy, natural colour and wearability, there's been no better choice than our VERIDENT acrylic teeth.
Until now, that is. That's because VERIDENT PLUS teeth fulfill our ongoing promise to provide you and the denture wearer the most up- to-date standards of quality. So for unsurpassed wear resistance and natural appearance, the choice is simple: VERIDENT PLUS.
Longer Wear
Denture wearers want long-lasting artificial teeth. With VERIDENT PLUS, advanced materials and processing have achieved an unsurpassed wear resistance.
Laboratory studies demonstrate that no other brand of teeth resists wear and abrasion better than VERIDENT PLUS. And since, in the real world, denture teeth are subject to far more abrasion than solvent soaking, these are the test results that really matter to the wearer. And to you.
The Colours of Life
VERIDENT PLUS teeth are not only long-lived they're true to life. Startlingly natural colour is built from within the tooth structure, to provide a vitality and translucency that's breathtaking.
The Universal Dental shade system is also as easy to use as it is good-looking. A simple alphanumeric system identifies colour ("Y" Yellow, "B" Blue-White, "R" Reddish-Gray and "P" Polychrome" characterized) and saturation (from"1" least to "6" greatest).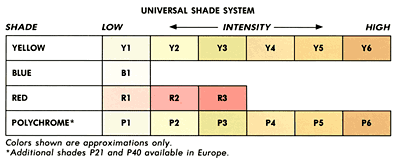 What's more, the exclusive Polychrome series provides truly lifelike personalized teeth. Characterized markings - stains, fracture lines, fillings, decalcifications - are molded in the teeth, not merely surface-applied. Keyed to the corresponding saturations (1-6) in the Yellow series, Polychrome teeth provide the final touch of naturalness to denture work.
These full ranges of Universal Dental colours, saturations and characterizations are carefully cross-matched between VERIDENT PLUS and our UNIVAC® porcelain teeth. That means you can work with and combine these acrylic and porcelain teeth in virtually unlimited combinations. Thus you can do more with fewer shades and molds - and that means better inventory control for you.
The World's Simplest Mold System
You'll find that it's easy to select molds and shades with VERIDENT PLUS teeth. That's because they use Universal Dental's unique alphanumeric mold system. It clearly provides the selection data you need most: labial contour, set width in millimeters, length of mold, and shade.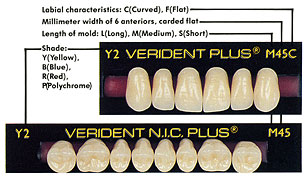 And use the same mold number as a basis to articulate and combine uppers and lowers, anteriors and posteriors. The Universal mold system makes quick and easy work out of selecting and interchanging VERIDENT PLUS teeth.

Posterior Molds for Every Case
Because every patient presents a unique case, VERIDENT PLUS anterior teeth can be combined with all our posterior molds, including:
NIC® 20° for non-interfering cusps
Bio-Mechanical® 0 ° for mono-plane (flat) occlusion
E (20°) and H (10°) molds
OPTIFORM® for lingualized occlusion
So make VERIDENT PLUS your first choice in anterior and posterior teeth-and be certain that Universal Dental provides the posterior molds for satisfying your most demanding cases. These anterior (including POLYCHROME) and posterior molds are also available as UNIVAC porcelain teeth.
Mold Charts
Download Verident Plus mold charts in PDF (870 KB) or click a thumbnail below.