VITA LINGOFORM Acrylic Posterior Teeth
A tooth for all situations - can be combined with VITAPAN and VITA PHYSIODENS anteriors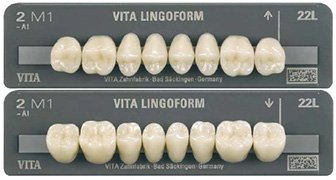 Product Description
VITA LINGOFORM – the multifunctional tooth for all indications: ONE for ALL
The functional design of the occlusal areas is the precondition for ideal static alignment of the denture in situ, helps to protect tooth substance and offers excellent wearing comfort.
Material
The VITA MRP (microfiller reinforced polyacrylic) material – proven over decades –,which is used in VITA LINGOFORM, is still unrivalled thanks to the lowest abrasion values of acrylic teeth.
Sorting
Lingoform posterior teeth are available in 4 molds:
VITA LINGOFORM 21L
VITA LINGOFORM 22L
VITA LINGOFORM 23L
VITA LINGOFORM 24L
In all VITA SYSTEM 3D-MASTER and VITA classical A1-D1 (except of B1) shades.
Peculiarity
VITA LINGOFORM posterior teeth can be combined with the VITAPAN PHYSIODENS, VITAPAN PLUS and VITAPAN anterior teeth as well.
VITA LINGOFORM
Properties: Anatomically preabraded occlusal surfaces featuring age appropriate design.
Consequences: Can be used for all setups - including lingualized setup – in compliance with the laws of mechanic tooth/joint guidance and neuromuscular mandibular guidance.
Benefit: One tooth for all cases – simple, safe, quick, and precise.
Mold Charts