VITA MFT Acrylic Teeth
Multi Functional Teeth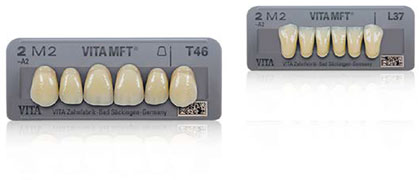 Product Description
The true-to-nature appearance of the teeth, built up of three layers – particulary visible with the VITA MFT anteriors – meet all criteria of a restoration satisfying the patient's needs. The VITA MFT design of occlusal surfaces is based on the innovative easy-centric principle, i.e. the surfaces are designed in such a way that, almost automatically, the perfect centric is reached.
Material
An excellent material quality is safeguarded by the use of densely cross-linked acrylic material which excels in first-rate material density consistently throughout the entire tooth and in an outstanding biocompatibility.
Sorting
Available in 12 upper anterior sets (in 4 type-specific mould groups), 5 lower anterior sets, 3 upper posterior sets, and 3 lower posterior sets.
Peculiarity
The whole range of indications in the pleasantly small VITA MFT product line. A reduced and harmonious range of shades/moulds ensures for increased economic efficiency.
Characteristics
The vivid impression of the teeth promotes the natural appearance and results in the patient's very rapid acceptance of the restoration. The first-class material in the well-established VITA quality provides for a maximum of tissue compatibility and longevity of restorations.
shade stable
abrasion resistant
tissue friendly
plaque resistant
splinter-free grinding
excellent polishing properties
perfect bonding to the denture base material
free of residual monomers
resistant to crack
Mold Charts