Teeth made of the VITA MRP material – successful clinical use a million times over:
Exceptional esthetics

Safe and accurate processing

Reliable wear characteristics

Exceptional material quality – the individual teeth, which consist homogeneously of one microfilled material throughout all lacers and are distinguished by outstanding wear resistance and fracture toughness.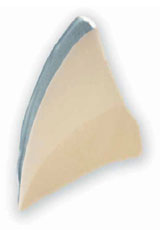 In the MRP-material (Microfiller Reinforced Polyacrylic) developed by VITA, inorganic microfiller materials with an optimally matched particle size distribution are integrated into the polymer network.
This guarantees uniform, high-quality material properties throughout the entire tooth.
In addition to this, the unique VITA repressing procedure results in a homogeneous material structure throughout which is distinguished by the secure bonding of neck, dentine and enamel – all made of the same material.
Furthermore, the chemical composition of the MRP material results in a high mechanical strength – in the case of both mucosal and implant-borne restorations.
Properties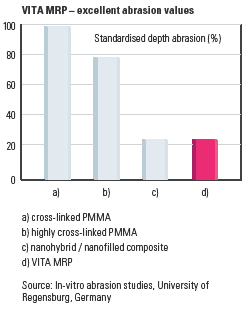 Outstanding abrasion strength
Tissue friendly and resistant to plaque

Chipping-free grinding and without compromising shade quality and material

Exceptional polishing properties – even after grinding in situ

Excellent bonding with the denture base material
Effects

Long life of the prosthesis

High degree of biocompatibility and excellent wearing comfort

Given the appropriate conditions, particularly suitable for implant restorations

Very quick acceptance of the dental restoration by patients
Benefits
Reliable/safe manufacturing of prostheses
All-round patient satisfaction
Image building and maintenance for dental laboratory and practice