VITAPAN PLUS Acrylic Anterior Teeth
The classic choice among anterior teeth – newly designed as a response to customer demand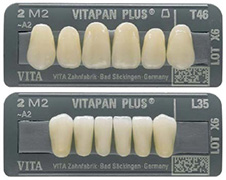 Product Description
The VITAPAN PLUS anterior is the customer oriented further development of the well-proven VITAPAN anterior tooth.
The VITAPAN PLUS anterior is a good, aesthetically attractive tooth with a natural appearance which satisfies the demands placed on a solution-oriented design with regard to all anatomical features; when it comes to aesthetics, these teeth go beyond merely meeting the standard.
Material
The VITA MRP (microfiller reinforced polyacrylic) material - proven over decades -,which is used in VITAPAN PLUS, is still unrivalled thanks to the lowest abrasion values of acrylic teeth.
Sorting
The VITAPAN PLUS anterior is available in the VITA SYSTEM 3D-MASTER and VITAPAN classical shades. The new, compact assortment comprises 10 upper anterior and 5 lower anterior moulds.
Combinations
The VITAPAN PLUS anterior can be combined with the following assortments: VITA PHYSIODENS, VITA LINGOFORM, VITAPAN CUSPIFORM, and VITAPAN SYNOFORM
Peculiarity
For natural aesthetics: whitish incisal margins
For a richly nuanced play of colours: opalescence, luminescence and translucency
For lifelike light reflection properties: authentic surface morphology and individual mamelon structure
For effective lip support and for maintaining the patient's individual physiognomy: horizontal and vertical tooth curvature characteristics.
To conserve the patient's phonetics and the accustomed tongue sensation: nature-identical palatal surface design
For a natural-looking, aesthetically convincing result: pronounced tooth angle characteristics.
For emphasising the patient's individual appearance – labial marginal ridge design suits the patient's type
For richly faceted, age-appropriate and hygiene-friendly gingival modelling that ensures interdental closure
For a well-proportioned design of the interdental spaces with effectively concealed construction elements: slightly broadened tooth necks featuring a smooth transition from tooth cervix to crown
Mold Charts